Partial Hospitalization Program
Partial hospitalization programs (PHP), also known as day treatment programs, offer support for individuals struggling with drug and alcohol addiction in a less restrictive manner than residential treatment programs but with more structure and accountability than outpatient programs. Located in northwest Ohio, right at the western tip of Lake Erie, our partial hospitalization program promotes positive change and self-respect in each clients' life while in a safe, secure, and supportive environment.  
What is a Partial Hospitalization Program?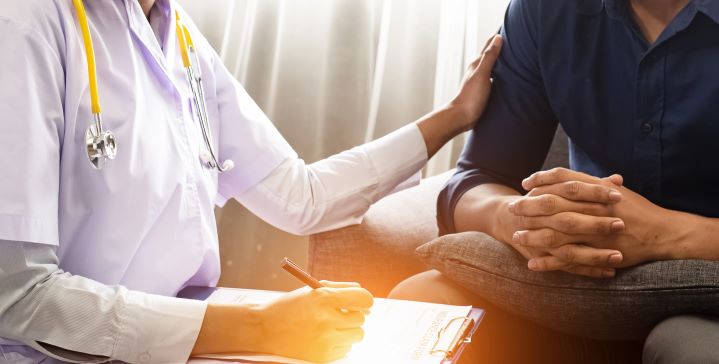 A partial hospitalization program (PHP) offers a combination of the acute, structured environment provided in residential treatment and the autonomy of outpatient treatment. Studies suggest that partial hospitalization programs dramatically lessen symptoms of substance use disorders and associated mental health conditions. Some of what you can expect while attending our partial hospitalization program in are as follows:
Individual, group, and family therapy with clinical staff
Weekly individual sessions with your designated primary therapist
Medication management and psychiatric assessment (if needed)
Wellness center activities (stress management/recreational therapy)
Art and music therapy
Job readiness participation and internet job searches
Job applications/resumes and coaching for job interviews
Life skills development programs
Anger management/aggression control and domestic violence groups
12 step meeting list and schedules (AA, NA, etc.)
Employment phase (treatment schedule is adjusted for clients who work)
Housing assistance (if needed)

Random UA/breathalyzer tests

Case management for legal, medical, education, employment, transportation and more
What Should I Expect From a Partial Hospitalization?
A partial hospitalization program (PHP) is typically offered as a step-down program after successful completion of residential treatment. This program offers patients the guidance and support needed to reintegrate into the world without the full structure of residential treatment care. However, PHPs still provide high-level assistance and therapeutic programming on a relatively short-term basis.
During our partial hospitalization program, patients are not required to stay overnight. This addiction treatment program has between five and six hours of therapeutic program activities from five to seven days per week.
Individuals who are likely to thrive in a partial hospitalization program include patients who are willing and able to fully engage in therapy after completing detox and residential treatment. The benefits of PHP include:
Regular structured, intensive therapy sessions

Extended access to medical attention

Regular meetings and classes for support
Additional benefits of attending PHP at Drug Rehab Ohio include:
Program hours:

 The hours spent in a PHP are usually comparable to office-based employment hours, which is intentional. Having the hours of partial hospitalization similar to what would be expected of a workday helps patients' shift back into working hours and solidify their understanding of how much effort sobriety demands.

Structured daytime treatment program:

 The program schedule emphasizes the significance of a partial hospitalization program to an individual's recovery efforts in an early stage of recovery and works as a reminder that learning the skills needed to stay sober must be a top priority.

Better chance at life-long recovery:

 Individuals who attend PHPs as a continuum of care, such as beginning with medically monitored detox and transitioning to residential treatment and then stepping down to a partial hospitalization program, typically have a better chance at lasting recovery than those who attend only one program.
Partial hospitalization can be a starting point for the recovery journey but is usually a step-down from residential treatment. Since this treatment program is usually the first treatment program after inpatient treatment, it is a critical phase of building healthy habits for sobriety.
Is a Partial Hospitalization Program Effective for Recovery Treatment?
PHPs are known to be most effective for individuals who have a supportive recovery environment at home. As an outpatient treatment program, if an individual is living at home with someone suffering from untreated substance use disorder, it can make the recovery process extremely difficult for the individual participating in PHP.
People who have experienced a relapse in the past, have co-occurring disorders, or have been victims of abuse might need to start with an inpatient program and then slowly transition to a PHP. At the Recovery Institute of Ohio, our addiction specialists can determine which program is the best fit for you or your loved one based on your substance abuse history.
Do I Need to Participate in a Partial Hospitalization Program After Residential Treatment?
People are often surprised to discover they need additional care once they have completed residential treatment. In our experience, the more treatment an individual in recovery receives, the more manageable it is to maintain their sobriety. Fortunately, clients aren't expected to stay in residential treatment the whole time. They can use step-down programs like partial hospitalization (PHP), intensive outpatient (IOP), and standard outpatient programs (OP) to start transitioning back into everyday life and taking on more responsibility while undergoing medical care and therapeutic services.
A partial hospitalization program can also help individuals who require immediate care for addiction but have responsibilities they can't leave abandon. If you cannot commit to receiving residential care, then a partial hospitalization program is worth exploring. In the event that the structure of a PHP doesn't provide the necessary improvements needed for a full recovery, we may suggest residential care until your condition progresses.
As long as you see improvements in your recovery and maintain your sobriety, you can ultimately step down from partial hospitalization into a lower level of care, such as IOP or OP. 
How Much Does Partial Hospitalization Cost?
As a general rule, the higher the treatment program's intensity, the higher the cost of the treatment. Partial hospitalization programs serve a more moderate acuity environment than residential treatment, and therefore the cost to attend PHP is lower. Still, because PHP offers access to high-level medical care, it is more expensive than outpatient programs.
Does Insurance Cover Partial Hospitalization?
Your insurance may cover the cost of attending our partial hospitalization program. We recommend that you contact your insurance provider and ask them about your coverage options. For specific questions about payments, you can contact us. 
Alcohol Rehab Centers and Drug Rehab Centers
Choosing the right addiction treatment program and rehab center are important steps towards recovery. Each treatment program offered at Drug Rehab Ohio has the same underlying goal of helping patients to live a life of sobriety but take different paths to accomplish this.
The best place to start is by identifying your expectations of what you plan to gain from addiction treatment rehabilitation and creating a plan that is right for you. Before deciding what program to attend, it can be beneficial to speak to an addiction treatment specialist to determine which program is the best fit for you. 
Are You Ready to Start a Better Way of Life?

Start your recovery today with Recovery Institute of Ohio
Recovery Institute of Ohio Treatment Programs
Today is a Great Day
to Be Clean and Sober.
"*" indicates required fields